Hello Everyone!
As you can see from the title, I am doing a book unhaul, which is quite a big deal for me! I will admit that I am a complete book hoarder and I'm not ashamed of it (hence the name bookdragon);however, as my collection is growing bigger I am having to let go of some of the books that I am realistically never going to read and also a few that I really didn't like. I always liked the idea of owning every book I've ever read, but it unfortunately isn't very realistic either for me bank account or for the space I have, so I decided I would start my year by clearing my shelves of some of the books I have been hanging onto for a bit too long. It isn't a huge unhaul as I got rid of most of them in my huge unhaul last year: LINK , but these are just the few stranglers that I hung onto 'just in case'. Before we start, I wanted to say that if you like any of these books, then I am by no means hating on you for it, I just wasn't a fan or have decided to prioritise other books that I am more interested in. With that said though, let's get into it!
Ashes Trilogy by Isla J.Bick 
If you have been reading my blog for a while, then you would have seen me talk about these in a wrap-up about a year ago and you will know that I hated them. It wasn't because the writing or the plot or anything was bad really, it was just not at all what I was expecting. It was a book based around the zombie apocalypse and I HATE zombies. I think they are so overdone and boring and there is really nothing interesting about them to me, but when I bought them I thought it was going to be a lot less focused on zombies and a lot more focused surviving in a world that has fallen apart. I also thought the main character was really annoying and I didn't understand some of the decisions she made. I didn't really care about any of the characters and in the end I just DNFed them because I simply did not care.
Charisma by Jeanne Ryan
You have probably all heard of Nerve by Jeanne Ryan because it was made into a Netflix film, which was quite popular (although it was nothing like the books and they messed it up in my opinion) and I did really love Nerve. I thought it was such an original idea, it was really well executed and I could really imagine people reacting like that in real life. Since I loved Nerve so much I decided to pick up Charisma, which is one of her other books, but I didn't think it was nearly as good as Nerve. It wasn't necessarily bad, but I found it quite predictable and the concept was a bit weird, so I have finally decided to get rid of it.
The Extinction Trials by S.M.Wilson
I honestly have no idea what this book is about. I bought it a year or two ago because it was on the buy one get one half price table at Waterstones and I had it in my head at that point that I should always buy 2 books to get the deal and since I was buying another book that was part of that deal I just picked a random book, so that I could get it. It has been sitting on my shelf ever since and I'm just not interested. I think it is a dystopian novel, which I have definitely drifted away from in the past year. I always used to read it because things like The Hunger Games and Divergent were popular (and I did enjoy those books), but in general it isn't really my thing, so I really don't think I am going to ever get to this one. It is also part of a series and I am absolutely not wasting my time reading more than one book.
The Diabolic by S.J.Kincaid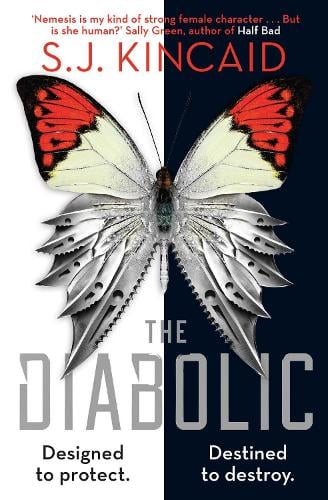 This was a book that was really popular on bookstagram when I first joined the community and I bought in one of those 'I've just discovered the book community and therefore must buy everything' phases, but then never got round to it. I was really interested in it at the time and the synopsis still intrigues me a bit, but since I am such a series marathoner, when I found there was going to be another book, I decided to wait for it to come out by which time I had lost interest. As I said, it is still a bit intriguing, but not enough for me to keep it. There are loads of other books that I want to read way more and if I really want to read it in the future then I can just borrow it from the library or re-buy it. At this point in time though and for the foreseeable future, it is just taking up valuable space.
The Last Star by Rick Yancey 
The final book on this list is the Last Star by Rick Yancey. This is actually the 3rd book in the 5th Wave trilogy (note that I don't and never have had the first two) and I am never going to read it. I bought it in the airport when I was on my way to America 2 years ago because it was part of a deal and they were SUPER cheap and, at the time, I did have a lot of interest in the 5th Wave trilogy, so I picked it up thinking I would buy the other 2 when I got home…..that never happened though. I had so many other books to read and I didn't have my own income then, so I didn't have money to buy my own books, so I never got round to buying them, so I eventually lost interest. Since I have now realised that I am more of a fantasy girl than a dystopian girl, I have pretty much lost all interest, so I've decided it is time to let someone else enjoy it.
Those are the 7 books I am unhauling in order to clean out my shelves for the new year! I know it isn't a lot, but getting rid of books is a big deal for me, so I'm impressed that I even managed to get rid of that many. All of these books will either be going to my local library or to the little mini library that my local Starbucks have. Have you ever unhauled any books? Do you struggle to get rid of books just like me or are you not really the sentimental, book hoarding type? I'd love to know, so leave a comment down below or come and chat to me over on my Instagram (@theoriginalbookdragon)!
Goodbye for now!
Over and Out
---
---